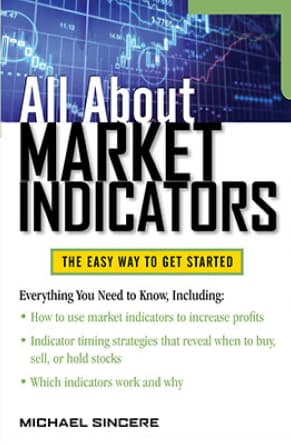 All About Market Indicators
(McGraw-Hill, 2010)
Why did professional trader and Market Wizard Linda Raschke move completely out of the stock market three days before a major crash? And what motivated Fred Hickey, a Barron's Roundtable participant and editor of a monthly investment newsletter, to send out an alert to his subscribers three months before an October crash?
And why did economist Bernard Baumohl recommend going long in the midst of one of the greatest recessions since the Great Depression? Is it luck or is it really possible to forecast what the market will do next? By the time you finish All About Market Indicators, you'll have answers.
Indicators covered in the book include: VIX, Stochastics, Volume, Moving Averages, Bollinger Bands, Put-Call Ratio, Momentum, Sentiment Surveys, Price, Relative Strength Index, and economic indicators.
This book helps answer the question: What is the market going to do next?
Professional Book Review: http://bit.ly/3JeL2Ue
Available at: